Simplifying Retirement Income Planning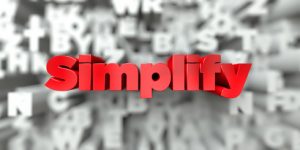 Simplifying Retirement Income Planning (and eliminating: "so what's the catch?" )
Planning for one's retirement is not nearly as complicated and confusing as you have been led to believe. You just need to understand how to overcome the "catch," as in, "so what's the catch?"
Yes, we've all been told, if not instructed, that planning for one's retirement years is a treacherous and dangerous endeavor. You've seen the endless ads on TV depicting such grave worry about retirement, you've heard the baseless and nervous chatter at social gatherings, and there's that "so-serious" tone in the advisor's voice as he plays upon your confusion. Indeed, this must be complicated, right?
The fact is, planning one's retirement income gets difficult when we refuse to face facts. We mess things up for ourselves; we get in our own way. We become "the catch" in our personal retirement planning.
Here's what I mean— After a detailed explanation and discussion of retirement choices, I frequently will get the response, "Wow, that sounds too good to be true…what's the catch?"
The "catch" is YOU! We are driven to work against ourselves due to our own genetic flaws—our very "human-ness" prevents us from believing and doing things that we often know are truly in our best interest. Ever have that "gut-feeling" …but you ended up acting to the contrary? We self-sabotage.
Annuities are long term products, having an agent to help you along the process is very important. Here are 20 questions to ask as you are interviewing agents.
There are the standard tax reductions every taxpayer knows about, but here are three others few realize that they can deduct to reduce their taxes.
An annuity is a long term commitment that can be a "bedrock" foundation for your retirement plan. Make sure the benefits they provide match up with your desired goals.